What to Expect Physically After a Car Accident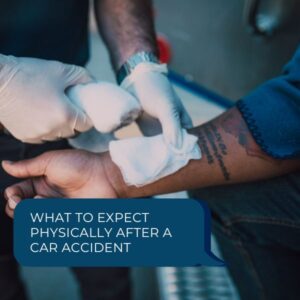 Even at low speeds, a car accident could result in serious and lasting injuries. Your symptoms will depend on the injuries you suffered and their severity.
Having some idea of what you are in for after a crash can help your recovery by giving you a chance to make plans. For more information on what to expect after a car accident in Georgia, contact Geiger Legal Group, LLC today.
Common Symptoms Experienced After a Car Accident
If you know what to expect after a car crash, you'll know what symptoms to look out for. Some of the most common symptoms people experience after a Georgia car accident include the following:
Headaches – Car accidents frequently cause drivers and passengers to hit their heads on the steering wheel, airbag, or other parts of the car's interior. Even if you do not hit your head on something, the force from the crash and sudden change in momentum can lead to headaches and other injuries.
Neck pain – When you are involved in a car accident, your head can be whipped or twisted around by the force of the collision. This force can damage the bones, muscles, and soft tissues in your neck and upper back. After the crash, you may have neck pain and other injuries.
Back pain – Back pain is another common symptom after car accidents in Georgia. The pressure on your body from a collision can damage the bones and other tissues in your back.
Bruises and swelling – If you hit your body on an airbag or your car's interior in a collision, you may suffer severe bruises and some swelling. This is normal, but be sure to see a doctor to rule out the possibility of more serious injuries.
Numbness and tingling – Nerve damage is common after car accidents, though it is not necessarily life-threatening. Any damage to your nerves can cause numbness and tingling in different parts of your body, depending on which nerves were damaged.
Ringing in your ears – Car accidents, especially high-speed collisions, can be extremely loud and damage your ears. Airbags can also make a lot of noise when they deploy. As a result, you may experience ringing in your ears for several hours or longer after the crash.
Intense fatigue – When your body goes through a traumatic physical event, it needs a lot of energy to heal. Severe fatigue is one of the most common symptoms of car accidents. It may be a sign of a more serious underlying injury.
Injuries Suffered After an Auto Accident
A few of the most common injuries from Georgia auto accidents are:
Injuries to the head and face
Neck injuries
Injuries to internal organs
Broken bones
Soft-tissue injuries
Cuts and bruises
Psychological distress
Talk to Our Experienced Car Accident Attorneys in Canton, GA Today
If you have been injured in a Georgia car accident, you could be owed significant compensation if someone else's negligence is to blame. We're ready to help you get justice. Contact Geiger Legal Group, LLC today for a free consultation with our Canton car accident lawyers.