Labor Day Accidents and Injuries in Georgia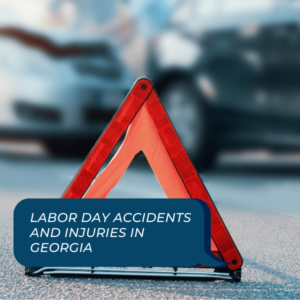 Holiday weekends are some of the most dangerous times to be on the roads. Unfortunately, Georgia's 2022 Labor Day weekend was no different. State officials reported 14 car accident deaths and one fatal drowning over the weekend.
With gas prices finally lowering, many Georgia residents took the opportunity to spend the holiday traveling for concerts, football games, and other events. But this busy traffic led to several tragic Labor Day accidents, including the deaths of a 7-year-old girl and a 14-year-old boy.
State troopers, Cobb County police, and the Bibb County Sheriff's Office were reportedly called to investigate fatal crashes across the state, including posts in Valdosta, Forest Park, Cordele, Newnan, Albany, Hartwell, Marietta, and Sylvania.
Rangers from the Georgia Department of Natural Resources (DNR) also cited six people for boating under the influence (BUI) over the weekend. One of these citations involved a fatal drowning in Bear Creek on Lake Jackson.
Historic Georgia Labor Day Accident Statistics
For the 2021 Labor Day holiday, the Georgia Department of Public Safety (DPS) stated there were 14 fatality crashes and 190 injuries. This is a decrease compared to the previous year when DPS reported 19 fatalities and 176 injuries over the 2020 holiday weekend. However, that was nearly double the 10 Labor Day car accident deaths reported in 2019.
According to the National Safety Council (NSC), the nation sees an average of 3,622 traffic fatalities in the month of September. They report that about 417 of these deaths occur over Labor Day weekend, making up about 11.5 percent of September's auto collision fatalities.
Are You Entitled to Compensation After a Georgia Car Accident?
If you were injured in an accident over Labor Day weekend, you may be owed money for your losses. Georgia allows car crash victims to pursue compensation from the at-fault driver for:
Medical expenses
Lost wages for missed work
Future loss of income if you cannot return to your job
Pain and suffering
Loss of quality of life
Vehicle repair or replacement
The families of those lost in fatal Labor Day accidents in Georgia may also be entitled to compensation for losses such as funeral expenses, the loss of their loved one's income, and lost companionship. Nothing is worth your loved one's life. But you shouldn't have to suffer the financial toll of your loss. While you focus on your recovery, a skilled attorney can review your case and help you determine what compensation you may be entitled to after a Georgia car crash.
Contact a Georgia Car Accident Lawyer from Geiger Legal Group, LLC
You don't have to deal with filing a car accident claim on your own after being injured in a crash. An experienced attorney can gather evidence, communicate with insurance companies, file claims, and seek the compensation you deserve. For more information on how our Georgia car accident attorneys can help you, contact us today for a free consultation