How Is Fault Determined in a Car Accident?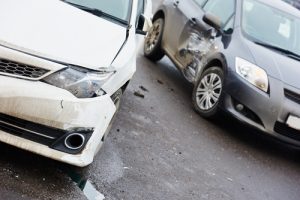 In the aftermath of a car accident, you may be wondering how fault will be determined for the crash. It's a good question. Identifying who is at fault for a collision can impact your options for recovering compensation for your injuries and property damage.
Getting advice from an experienced Georgia car accident attorney is critical if you've been involved in a crash where fault is in question. With these types of cases, the auto insurance company for the at-fault driver is will likely try to shift an unfair portion of the blame onto you. At Geiger Legal Group, LLC, we can investigate your claim to determine who should be held liable. This gives you the best possible chance of obtaining maximum compensation.
With our five-star rated, family-run law firm, you can expect dedicated and personalized attention throughout your case. We limit our caseload to focus on providing top-quality legal services that our clients need and deserve.
Ready to learn your next steps? Call or contact us today for a free consultation with a trusted car accident lawyer now.
Who's at Fault in a Georgia Car Crash?
Knowing how fault is determined in a car accident matters for several reasons. Georgia law says that a driver who causes an accident will be responsible for any resulting expenses and losses.
Though the at-fault party in the average car accident usually rests with one or both drivers, others may also bear legal fault for a crash. Imagine you were injured in a car accident caused by defective brakes. In that case, your claim would be against the maker of the faulty parts.
Is Georgia a No-Fault State?
A handful of states use a no-fault system to determine fault after a car accident. In a no-fault state, victims of car accidents must turn to their own insurance coverage for compensation for their injuries and related losses, no matter who was at fault.
Georgia does not follow the no-fault model. In the Peach State, a driver or passenger hurt in a car accident caused by someone else's negligence may file a claim or lawsuit against that party demanding compensation for their injuries and losses.
Who Determines Fault in a Car Accident?
When you file an injury claim with the insurance company after a car accident, a representative called an adjuster will decide fault and determine whether you have a legitimate claim for compensation. The adjuster will examine evidence from the crash to make the assessment.
Potential sources of evidence include:
The police accident report
Medical records
Statements from drivers and eyewitnesses
Photos or video of the accident scene
Traffic and weather conditions at the time of the crash
A review of the vehicle damage
Keep in mind that adjusters are hired and paid by the insurance company. It's their job to save the company money. How do they do it? By offering the smallest payout possible to accident victims. Their determination of fault will almost always be tilted in a way that provides the least amount of compensation to you.
When a settlement on an insurance claim cannot be reached, a victim may wish to file a car accident lawsuit to pursue full and fair compensation. In a lawsuit, the determination of fault will be made by a judge or jury. Having a car accident lawyer by your side during settlement negotiations may help you avoid the need for trial and speed up the settlement process.
What to Do After a Georgia Car Accident
After a car accident in Georgia, your priority is your health. Check yourself and any passengers for injuries first. If you're able, you should then:
Call 911.
Get the name(s) and insurance information from each driver involved in the crash.
Identify witnesses and get their contact information.
Take photos or videos of the accident scene and vehicle damage.
See a doctor for a physical exam to diagnose any injuries.
Follow your doctor's treatment plan and attend every scheduled appointment.
Keep all documentation related to the crash, such as medical records, bills, pay stubs, vehicle repair estimates, and the police accident report.
Refrain from posting updates on social media. Anything you post could be used against your case.
Talk to a car accident attorney to maximize your claim for compensation.
Contact Our Car Accident Attorney Today
Getting legal help to determine fault can make or break your case for compensation after a car accident in Georgia. Don't let the money you deserve go uncollected. Reach out to Geiger Legal Group, LLC today for a free initial consultation. Call us or connect with us online today.