House Fires and the Holidays: Local Statistics and FAQs to Know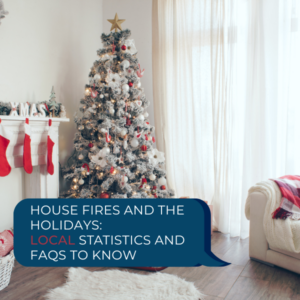 With the holidays right around the corner, now is an excellent time to learn some important safety tips to ensure you and your guests can enjoy the season ahead. Knowing how to prevent fires during the holidays can give you peace of mind when hosting celebrations in your Georgia home this year.
House fires are widespread during Christmastime, with the National Fire Protection Association (NFPA) reporting that fire departments nationwide respond to about 160 Christmas tree fires yearly. Don't let faulty string lights or a dried-out tree get in the way of having fun this holiday season. To learn more about how to handle a home or business fire that caused personal injury, contact us today for a free consultation.
Winter Holiday Fire Statistics in Georgia
Here are a few Georgia fire statistics that demonstrate how deadly house fires can be here:
FAQs About Fire Safety in the Home During Winter Holidays
Here are answers to some of the most common questions we get asked about holiday fire safety in homes:
Do live Christmas trees catch on fire?
Although rare, live Christmas trees can catch fire. But dead or dried-out trees are much more likely to ignite. One report found that it takes a fire less than 30 seconds to completely engulf a Christmas tree. The longer the tree is in your home, the higher the fire risk.
Can I put out flames in the fireplace with water?
Putting out a fire with water can cause a burst of smoke and result in steam burns. The best way to extinguish a fireplace is to break up the wood and embers, bury the fire's fuel source with ash, and cover anything burning with baking soda or another fireproof substance.
Where can I get a fire extinguisher for my house?
You can find fire extinguishers at most hardware stores and similar retailers. The NFPA has a list of the different fire extinguisher categories and when to use each extinguisher. For example, Class A extinguishers work well against common fires, while you'll need a Class B extinguisher for kitchen fires.
How do string lights catch on fire?
Sometimes string lights ignite because they are too close to a heat source like a candle or space heater. In other cases, the lights have defective wiring that causes the lights to overheat and ignite. Keep string lights away from heat sources to reduce your chances of a holiday house fire.
5 Quick Tips About Fire Prevention in Your Home This Winter
Buy an artificial Christmas tree. Otherwise, keep your live Christmas tree watered and away from heat sources.
Keep Christmas decorations at least three feet from fireplaces, vents, candles, space heaters, and other heat sources.
Make sure string lights and other potential fire hazards are in good working order.
Unplug your Christmas tree and lights before going to bed.
Keep flammable objects away from your stovetop when cooking.
Check the Cherokee County Fire and Emergency Services website to see if outdoor burning is allowed before lighting fires.
What to Do If You or a Loved One Are Injured in a Fire This Winter
If you or a loved one are injured in a fire this winter, a personal injury attorney with Geiger Legal Group, LLC can help you seek compensation and accountability. Contact any of our offices in North Georgia today for a free consultation.