Deadly Memorial Day Weekend for Georgia's Roads and Waterways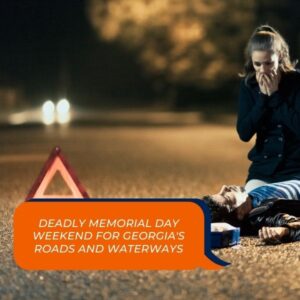 Holidays are dangerous times to be on roads and waterways, with Memorial Day often one of the deadliest. The Georgia Department of Public Safety (DPS) feared this year would be no different, warning drivers to be extra careful this Memorial Day weekend.
Unfortunately, 20 lives were lost in accidents involving vehicles, boats, and water throughout the state over the three-day weekend. Some of the top reported factors include alcohol and speeding.
Recap of Deadly Accidents Over Memorial Day Holiday Period in Georgia
One of the first deadly accidents was a boat crash on Saturday morning. Five people were killed after two boats collided. One of the boat drivers has been arrested and charged with boating under the influence (BUI). He was just one of 40 people cited over the weekend for BUI.
Deadly vehicle wrecks are being investigated in Newnan, Toccoa, Dalton, Americus, Waycross, Athens, and Grovetown, as well as by the Gwinnett County police department, Fayetteville police, and Bibb County Sheriff's Office.
There were at least two separate motorcycle crashes about half a mile apart on Highway 78 near Bay Creek Church Road. Both riders had non-critical injuries. A pedestrian was also hit Monday night as she walked along a street in Macon.
Several drownings were reported, including a 5-year-old kindergartner who went missing while playing on a float on Saturday afternoon. A 20-year-old man then drowned while swimming at the Margaritaville water park Sunday afternoon. On Sunday night, an unidentified man drowned after jumping approximately 20 feet from a tree hanging over the Ocmulgee River in Wilcox County.
Historic Statistics for Deadly Memorial Day Weekends in Georgia
This Memorial Day weekend wasn't the first deadly one. And it likely won't be the last. The Georgia DPS reported a record number of traffic deaths for the 2021 Memorial Day holiday, with 2,469 traffic crashes resulting in 32 fatalities and 1,216 injuries. The previous record was in 1969, with 27 traffic deaths. In 2020, they reported 13 fatal traffic crashes resulting in 15 deaths during the weekend.
According to the National Safety Council (NSC), the nation sees an average of 3,407 traffic deaths in May. About 398 of these occur on Memorial Day weekend, making up nearly 12 percent of all traffic deaths in May.
Did You Lose a Loved One in a Boat or Car Wreck This Memorial Day Weekend?
While nothing is worth the value of your loved one's life, you shouldn't have to handle the bills on top of your grief. If you have lost a loved one due to someone else's negligence, you may be entitled to compensation from the person responsible. Through a wrongful death claim, you could pursue financial recovery for losses such as the following:
Medical bills
Funeral expenses
Loss of your loved one's income
Pain and suffering
Loss of love and companionship
An attorney can help you demand the compensation you need to cover the emotional and financial toll of losing a loved one. Call or contact our legal team at Geiger Legal Group, LLC online today for a free consultation with one of our experienced wrongful death lawyers.