What Is the Cause of Most Fatal Boat Accidents?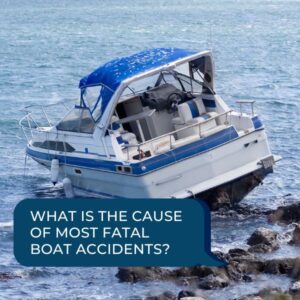 With the spring season approaching, many people are eager to get back out on the water with their boats and watercraft. However, the return of boating season also means the return of preventable, fatal accidents. If you plan on boating this upcoming season, it's important to know the causes of fatal boating accidents in Georgia and what to do if the unthinkable happens.
What Causes the Most Boating Fatalities?
According to the American Boating Association, the U.S. Coast Guard (USCG) recorded over 5,000 boating accidents nationwide in one recent year. These accidents resulted in nearly 3,200 injuries and 800 fatalities. A recent USCG report indicates the top 10 primary contributing factors to boating accidents and boating fatalities in one recent year included the following:
Alcohol intoxication –

115 deaths

Operating in hazardous waters –

62 deaths

Boat operator inexperience –

56 deaths

Operator inattentiveness/distraction –

55 deaths

Bad weather conditions –

42 deaths

Speeding –

32 deaths

Inadequate lookout –

28 deaths

Violating navigational rules –

26 deaths

Mechanical failure –

19 deaths

Excessive waves or wakes –

14 deaths
According to the USCG report, Georgia accounted for 2.5 percent of boating fatalities in one recent year.
Your Legal Options If Your Family Has Experienced a Boating Fatality
If your loved one was killed in a boating accident in Georgia, your family might have the right to file a wrongful death claim to pursue compensation from the at-fault parties. Any of the following may be liable for a boating accident fatality:
Boat operator

Vessel crew, including the captain, deckhands, or engineers

Vessel owner

Boat charter company

Third-party marine mechanics

Boat or marine equipment manufacturers
Under Georgia's statute of limitations, you have just two years from the date of your loved one's passing to file a wrongful death lawsuit. However, there are exceptions to this deadline. A skilled Georgia boating accident lawyer can help you determine your legal options and how long you have to pursue them.
Recoverable Damages If You Lost a Loved One in a Fatal Boating Accident
Your family may be entitled to seek compensation for the losses you suffer due to your loved one's death in a boating accident. The compensation you could be owed for a fatal boating accident includes the following:
Loss of your loved one's wages and benefits that they would have earned had they lived

Value of the services your loved one provided to your family or household

Loss of your loved one's companionship, care, advice, and counsel

Medical expenses incurred in treating your loved one's fatal injuries

Funeral and burial costs
The Experienced Wrongful Death & Accident Lawyers at Geiger Legal Group, LLC Can Help
Have you lost a loved one to a boating accident someone else caused? Contact Geiger Legal Group, LLC today for a free, no-obligation consultation with our wrongful death lawyers about your legal options. Our family-run law firm will fight to hold those at fault for your loved one's death accountable for their wrongful actions. We focus on helping people rather than maximizing the number of cases we handle, so you can expect our full and undivided attention to your case.