Canton Father and Daughter Die in Four-Vehicle Wreck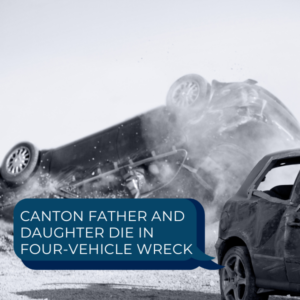 A man and his daughter were killed last Thanksgiving when a Ford F-150 heading eastbound on Knox Bridge Highway crossed the center line near Scott Hudgens Drive in Canton and struck a Nissan SUV head-on. The victims were identified as Canton residents.
The wife and the other daughter suffered non-life-threatening injuries in the wreck and received medical care at nearby Wellstar Kennestone Hospital. The 24-year-old driver of the F-150 was also treated there for non-life-threatening injuries.
Two other vehicles were also involved in the crash, but no one else reported injuries. 
Georgia Stats on Deadly Car Accidents
Tragically, fatal car accidents like the deadly Thanksgiving wreck in Canton happen all too frequently in Georgia. Below are some recent statistics from the Georgia Governor's Office of Highway Safety that illustrate just how common deadly car accidents are statewide:
In one year, there were 1,664 traffic fatalities statewide — or nearly five daily.

Of those Georgia traffic fatalities, 647 occurred in rural areas and 1,014 in urban areas.

1,072 vehicle occupants died in these accidents, accounting for 64 percent of traffic fatalities.

192 motorcyclists died, accounting for 12 percent of traffic fatalities. 

279 pedestrians died, or 17 percent of traffic fatalities.

Nearly one-quarter of traffic fatalities in Georgia involved alcohol impairment.

More than one in five traffic fatalities involved excessive speed.
What to Do When You Get into an Accident
If you get hurt in a Georgia car accident, here are some key steps you should take to protect your well-being and legal rights:
Seek medical care so a doctor can diagnose, treat, and record your injuries. Follow your doctor's care plan closely to improve your prognosis.

Gather evidence from the crash scene, including photos of the wreck, contact and insurance details from other drivers, and statements from eyewitnesses.

Keep copies of medical bills, bank statements, and other relevant documents.

Document your recovery in a "pain journal" by recording observations about the pain and personal limitations you experience due to the accident.

Watch what you say to the other driver, their insurance provider, and any other third parties before you have a chance to discuss your case with an attorney.

Refrain from sharing any information or photos online while your claim is pending. Insurance adjusters and defense attorneys could use what you say online against you later.

Discuss your case with a trusted injury lawyer before you speak to anyone else.
Contact the Canton Car Accident Lawyers at Geiger Legal Group, LLC
If you or a loved one has been in a car accident in Georgia, you should contact a knowledgeable injury lawyer immediately. At Geiger Legal Group, LLC, our attorneys are standing by to safeguard your rights, prepare a strong car accident claim on your behalf, and negotiate aggressively to maximize the value of your crash injury settlement.
Contact us today for a free initial case evaluation with a Georgia car accident lawyer to learn more about how we can help.