Drunk Driving Accidents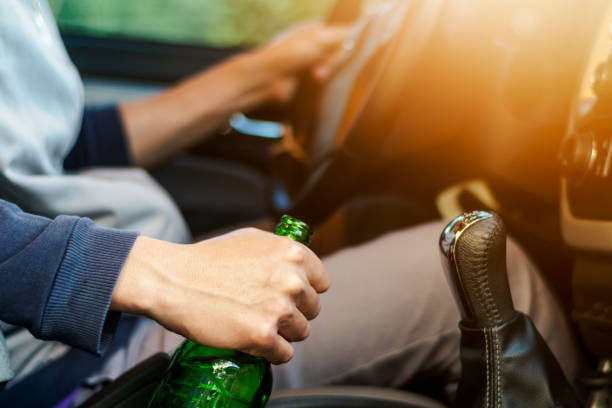 If you were injured in a drunk driving accident, you may be worried about paying medical bills, missing work, and recovering from your injuries. That's why you need an experienced car accident attorney from Geiger Legal Group, LLC.
Our attorneys have a long history of helping injured victims secure the financial recovery they need following a serious accident. We strongly believe that our success is due to our legal knowledge and experience, as well as the time we take to get to know the individuals who need our help.
You deserve to have someone on your side who will listen to your story, understand your challenges, and fight for justice. We're here to help you get on the path to recovery. Contact us today for a free consultation with a compassionate car accident attorney.
How Many Accidents Are Caused by Drunk Driving?
Statistics show that drunk driving accidents are unfortunately a common, everyday occurrence in the United States. According to the National Highway Traffic Safety Administration (NHTSA), about 28 people are killed in drunk driving accidents every day. That's a death every 52 minutes. They reported over 10,000 alcohol-impaired driving fatalities one year, which is 28 percent of all traffic fatalities. Georgia itself had almost 1,500 deaths from drunk driving accidents.
In addition to fatalities from drunk driving accidents, a variety of non-fatal, yet serious injuries may occur, such as the following:
Traumatic brain injuries (TBIs)
Spinal cord injuries
Broken bones
Internal damage or bleeding
Lacerations
Burns and scarring
Crushed limbs or amputations
What Causes Drunk Driving Accidents?
When a driver is impaired by alcohol or drugs, their ability to focus, react quickly, and control the vehicle is compromised. Their decision-making skills and vision are skewed, making them more likely to drive with excessive speed or travel on the wrong side of the road. Unfortunately, even when other drivers attempt to avoid drunk drivers, it is often too late. This may partly be because it's sometimes difficult to recognize a drunk driver.
Even when a driver has not reached the legal limit for drunk driving, alcohol may contribute to an accident. The effects of alcohol begin at a blood-alcohol concentration (BAC) of .02 percent, which occurs after approximately two drinks. There is some loss of judgment, and the driver's mood may be altered. It is more difficult to watch a moving target, such as another vehicle, even at this low level. It also becomes more difficult to perform more than one task at a time, such as turning while braking or accelerating.
After approximately three drinks, or at a BAC of .05 percent, drivers experience reduced coordination, a decreased ability to see other moving vehicles, and more difficulty reacting to situations on the road.
As a driver's BAC exceeds .08 percent, the legal limit for drivers in Georgia, perception, reaction time, short-term memory, and judgment continue to deteriorate. These high BAC levels cause an extreme risk to others on the road.
How much of a role alcohol played in a drunk driving accident may not always be easy to determine. An experienced drunk driving accident attorney can help by thoroughly investigating your case.
Does Insurance Pay for Drunk Driving Accidents?
The drunk driver's insurance could cover you if you have been injured in a drunk driving accident. This will depend on whether you can prove the driver was drunk and liable for the accident. If the accident is covered, the insurance company will pay up to the normal limits of the policy.
However, this amount may not be enough to cover the long-term consequences of your injuries. They also may try to find a way to deny your claim. Do not rely on the guidance provided by insurance companies. Insurance adjusters are trained to convince you to accept less than you deserve. It may take significant negotiation to reach an appropriate settlement. You may even have to file a personal injury lawsuit to get the compensation you need.
It is difficult to determine the average settlement for a drunk driving accident, but the Georgia drunk driving accident attorneys at Geiger Legal Group, LLC know how to pursue maximum compensation for your injuries.
How to Prevent Drunk Driving Accidents
You can help reduce the terrible results of drunk driving accidents in several ways. First, never drive after you have been drinking, even if it was just one drink. You can also look out for family, friends, and acquaintances by offering them a ride and encouraging them not to drive if they've been drinking. You can remind them of the horrible consequences to both them and others.
In addition to targeting drunk driving directly, basic driving precautions may help you avoid becoming a victim of a drunk driving accident. For example, keeping a safe distance between your vehicle and the car in front of you can help you avoid an accident. Avoiding distracted driving can help you recognize and steer clear of an erratic driver.
Talk to a Drunk Driving Accident Lawyer in Canton, GA
To protect your rights, you should always consult an experienced car accident lawyer if you have been injured by a drunk driver in Georgia. Other attorneys may not have the time to give your case the proper attention. But Geiger Legal Group, LLC is a five-star, family-run firm focused on helping people rather than increasing our number of cases. Contact us today for your free consultation.